All applications are reviewed and must be approved before badges are issued.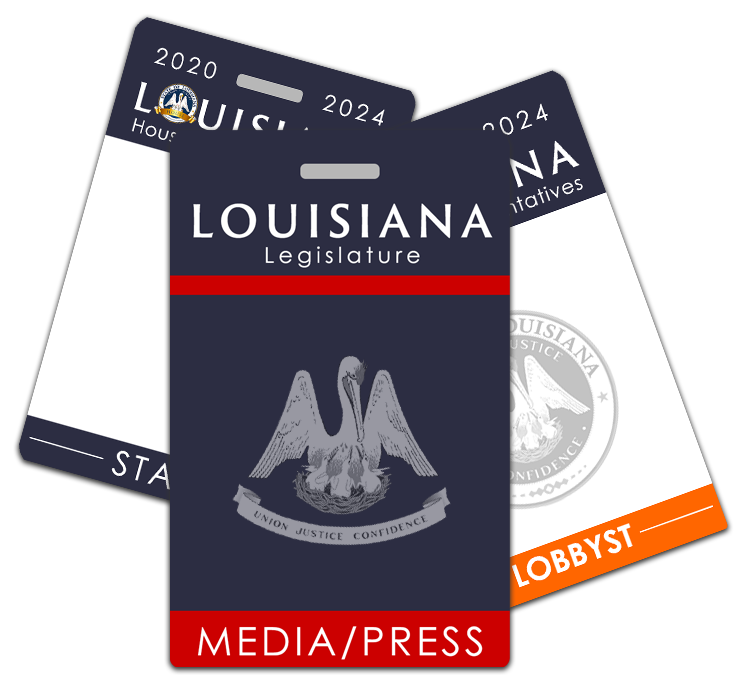 Legislative media identification badges are a privilege and are issued as a security measure to salaried journalists working for a commercial or non-profit news outlet providing routine non-partisan coverage. The outlet must be recognized by the Louisiana Broadcaster's Association, the Louisiana Press Association and/or National Press Foundation (or similar organization). The news outlet must verify the applicant's employment.

Applicants cannot engage in lobbying, advocacy, advertising, publicity or promotions for any individual, political party, corporation, business or government agency.
Media identification badges may expedite entry into the building and give journalists access to designated press areas during proceedings of the legislature on a first-come, first-served basis when space is available. Equipment must be compact and stationary so as not to disrupt traffic in the chamber, committee rooms, committee hallways and any other public space in the capitol.
News media badges issued by any other entity are not valid for entrance to the designated media areas of the Capitol.
The cost of a new yearly identification badge is $10.00 per badge. The replacement cost for a lost badge is $10.00.
Payment should be submitted via money order, personal check or company check. NO CASH OR CREDIT CARDS ACCEPTED. Please complete the online form as instructed or print and return via U.S. mail with payment to:
Office of Sergeant at Arms –HOUSE
P.O. Box 94062
Baton Rouge, LA 70804
Other Important Information to Know:
• Media badges do not exempt journalists/photographers from passing through security.
• Balcony seating is always open and available for overflow media and the general public. Media badges are not required to monitor session proceedings from either the Senate or House balcony.
• Cameras (both still and video) are not allowed in either chamber's balconies.
• Live-streaming of all chamber and committee proceedings is available for download at house.louisiana.gov and senate.la.gov or using the mobile LA LEGE app. FACEBOOK LIVE STREAMING in prohibited in both chambers.
• Journalists given access to Chamber Floor Seats will be given special identification and as well as a copy of the Chamber Rules to be strictly followed. NO PHOTOS ARE ALLOWED FROM THE CHAMBER FLOOR SEATS BY THE MEDIA DURING PROCEEDINGS.
• No interviews are to be conducted on the floor of the chambers.
• Journalists covering the legislature should follow each chamber's dress code
• Documentary filming is strictly limited during legislative proceedings and requires special permission (not a media identification badge) from the presiding officer in each chamber
• Cameras are not allowed in Chamber Balcony

You will be notified upon approval or denial of your application. Media identification badges can be revoked at any time for non-compliance with information above, disruptive behavior, or failure to continue meeting the qualifications.
Once approved and payment received, your identification badge will be created and available on your next visit to the State Capitol in the Office of the Sergeant at Arms, Basement Floor, Room 151.
If you have any questions, please contact Meg Casper Sunstrom in the Legislative Communications Office at 225-342-7646.